Yes, we sell amazing maps. But what we're really selling is inspiration. Inspiration to embrace your passions, to showcase them and to explore them fully.
That's our goal - to help you discover new places and give you a gentle push to get out there and explore them.
"My mission in life is not merely to survive, but to thrive; and to do so with some passion, some compassion, some humour, and some style."

- Maya Angelou
The Irish Sea Swim Map

193 of Ireland's best sea swim spots in crisp detail.

Every spot has key information like Dangers, Access Difficulty, Spot Type, Lifeguard Presence and Blue Flag status.

The Sea Swim Map can act as an ever-present inspiration to swim more, explore amazing new places and to remember beautiful places you have swam in the past.

Check it out

The Irish Surf Map

80 of Ireland's best surf spots, from the famous waves to the tucked away gems.

Every spot is accompanied with key information like exact GPS coordinates, ideal wind & swell directions and the break type.

The inspiration for your next unforgettable surf trip is only a glance away.

Want to add your own surf spots? Just grab a ballpoint pen and you can easily add them to the map yourself.

Check it out
Let customers speak for us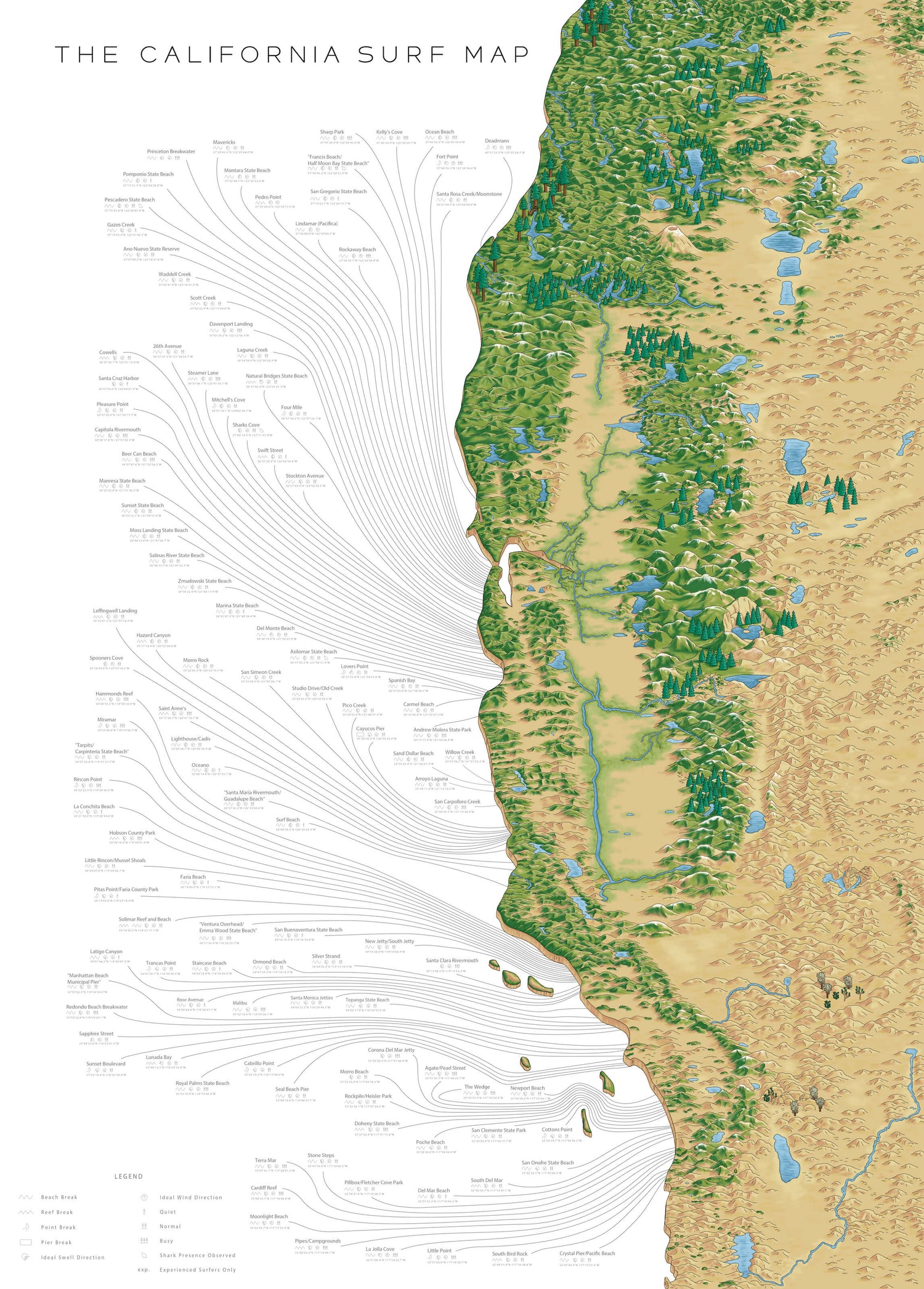 The California Surf Map
California is often called the birthplace of modern surf culture. Rightly so, it offers some incredible surfing along it's expansive, stunning coastline.
So we've captured 115 of the best surf spots and mapped them out with our unique , hand-drawn terrrain design of the state's coastline.
Every single spot has key info like ideal swell/wind direction, break type, crowd factor, shark presence, experience level and GPS coordinates.
The result is The California Surf Map.
The perfect inspiration for your next surf trip is only a glance away.
Check it out
The British Sea Swim Map

221 of Britain's best sea swimming spots. Key info such as Dangers, Access Difficulty, Blue Flag & Lifeguard Presence for every spot. Pack your swimmers and go explore it!

Check it out!

The British Surf Map

190 of Britain's best surfing spots on one amazing map. Every spot has GPS coordinates, ideal swell/wind directions, break type and experience level. The perfect surf trip is a glance away.

Check it out!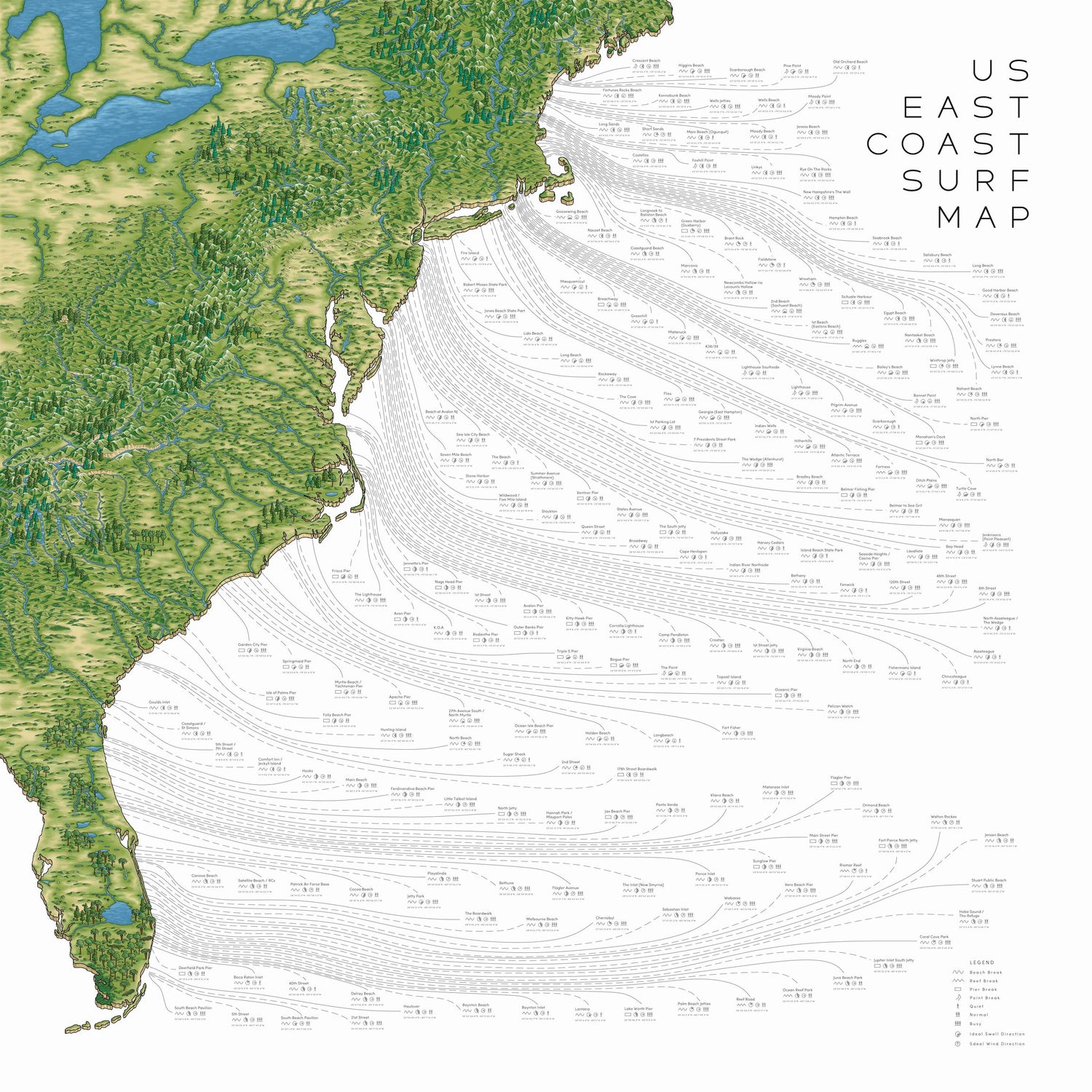 The US East Coast Surf Map
212 amazing surf spots, from Maine to Florida. GPS coordinates, crowd factor, break types and ideal swell/wind direction for every spot. This is The US East Coast Surf Map.
Check it out!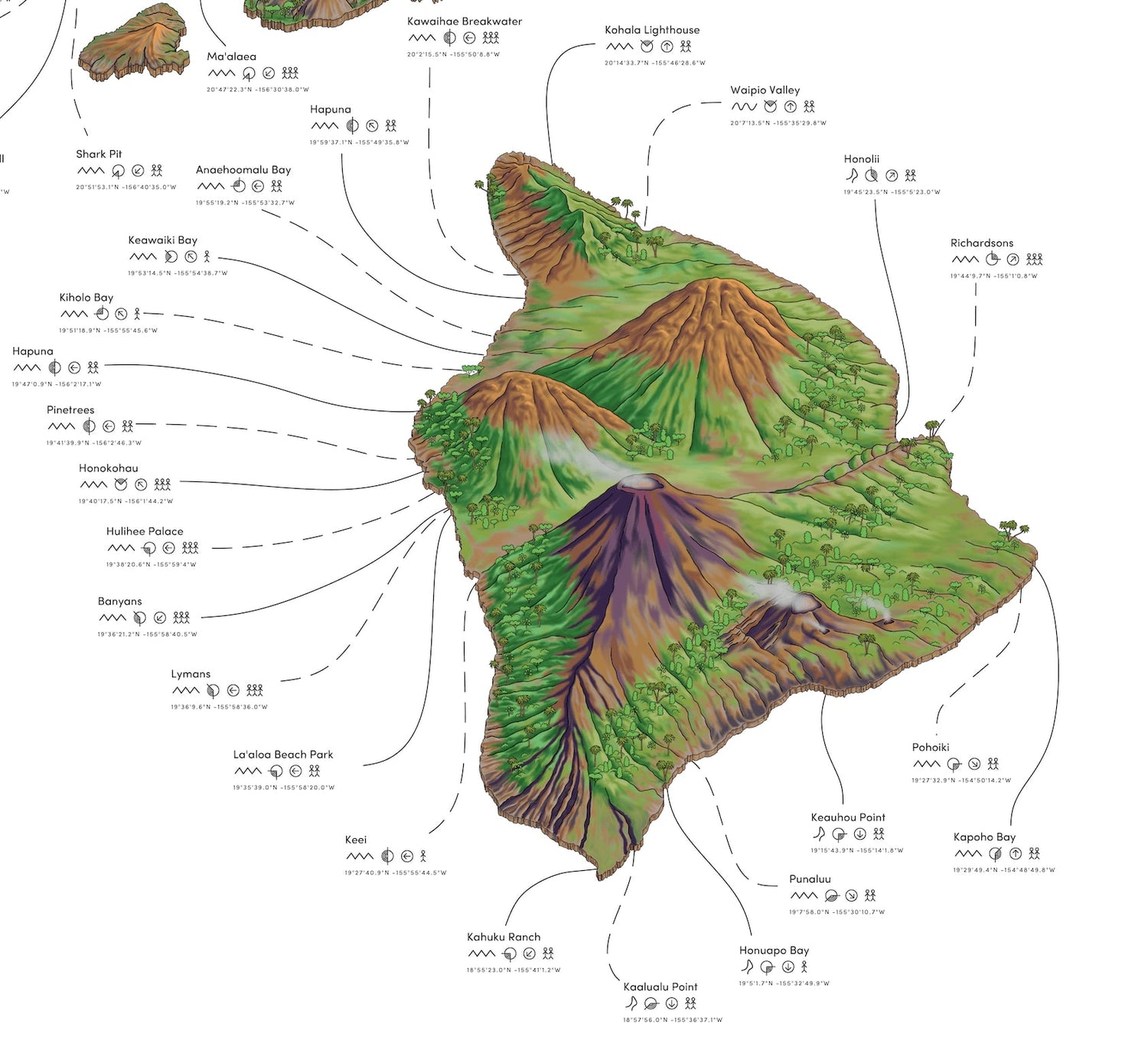 The Hawaii Surf Map
If you want directions, look at google maps.
If you want inspiration to dream up your next big adventure or to remember great times past - look at our Hawaii Surf Map.
102 world-class surf spots mapped against the incredible volcanic terrain of the islands.
The perfect inspiration for your next surf trip is only a glance away!
Check it out
Who's behind Malin & Mizen?

Bill Abbott runs and owns Malin & Mizen. He creates the designs and keeps everything running smoothly.

Experiences surfing, cycling, sailing, swimming and hiking around Ireland and Europe over the past 20 years inspire his designs and approach.

How do we create our maps?

We partner with a professional printing house to help print our maps. So you can rest assured that every single product is created by experienced specialists using modern machinery.

Why do we do it?

We create our designs and products for passionate people who love adventure and the outdoors. So that you can have unique inspiration for your next adventure, or memories of your past ones. Keep on exploring.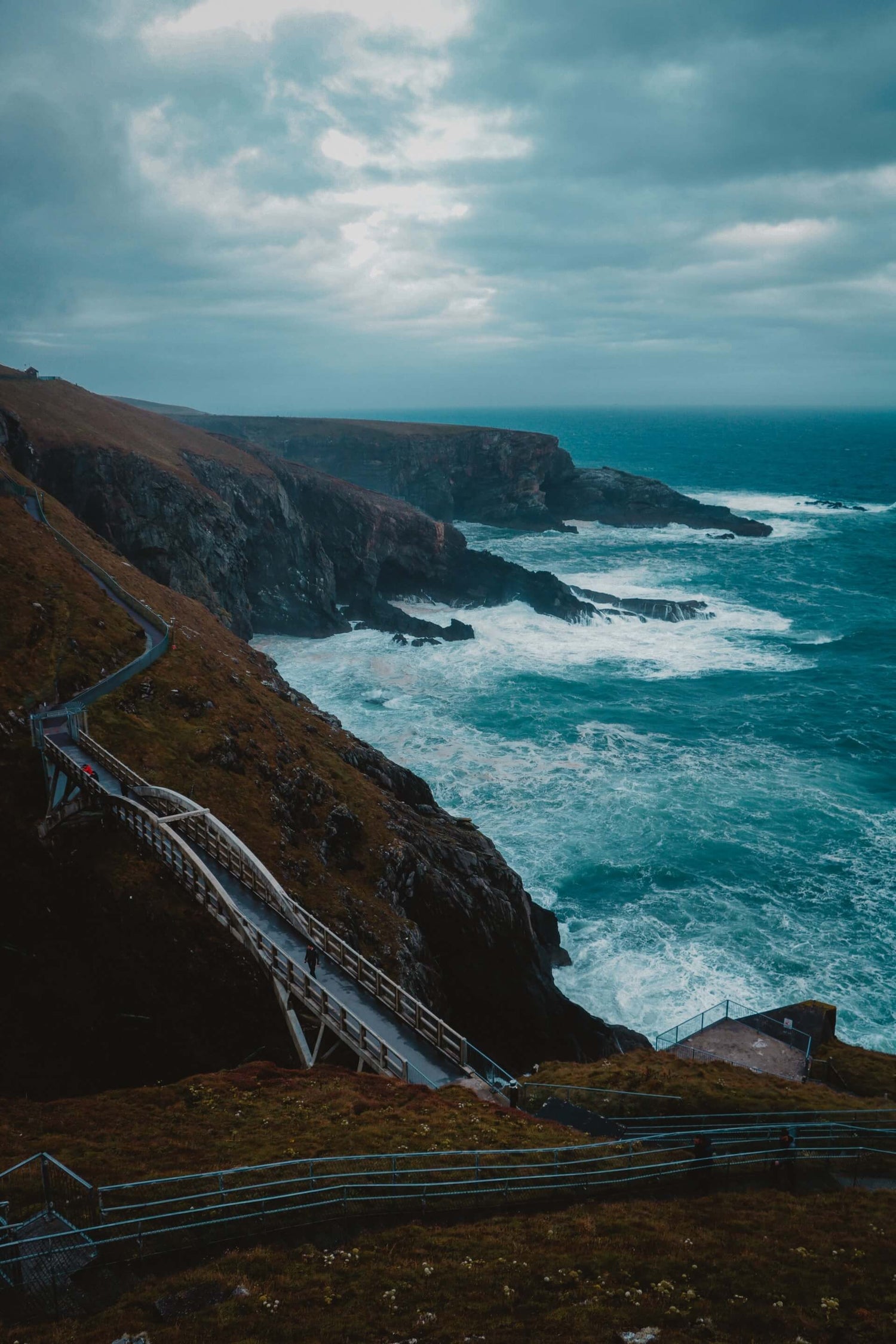 What is Malin & Mizen?
We believe that by surfing a wave, climbing a mountain or swimming in a bay, you build a connection with these breath-taking, natural places.
We recreate these places and activities through original design - so that you can relive the experience, each day.
Our name is based on Malin Head and Mizen Head, Ireland's most northerly and southerly points. Their rugged and wild landscapes inspire our design approach.